ACT OF COURAGE
Capt. Sher Khan Shaheed (Nishan-e-Haider)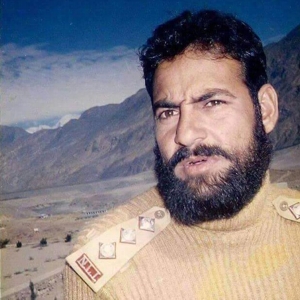 His full name was Capt. Karnal Sher Khan, he was around 27 years of age and emerged as a hero of Kargil conflict fought in 1999. His colleagues remember him as a person who used to laugh easily and a lot. He belonged to Village Nawa Kali, District Swabi. His grandfather had participated in the war of liberation for Kashmir in 1948 (as a civilian like so many in 1948 and since), he had immense respect for army hence he named his grandson "Karnal". Sher was commissioned in the 27 Sind Regiment and was called "Mujahid" by his colleagues.

During the Kargil conflict while serving with 12 NLI Bn, he volunteered for an opportunity to command a post. Along with 21 ORs, he took up position on top of a feature that was around 18,400 feet high.
Starting on the 25th of June 1999, Indian artillery and the Indian Air Force pounded him and his men for 3 days and 3 nights with unrelenting bombardment. None of them probably caught more than a wink of sleep during that time. On the 27th of June 1999, at 2230 hrs, the Indian infantry attacked with around 800 men believing that the necessary softening of the target had been achieved with air strikes. Sher Khan's men repulsed wave after wave of advancing Indian forces during the ensuing combat. But the sheer number of enemy together with mounting casualties started taking their toll and around midnight they lost part of the feature to the enemy.
Sher Khan, instead of retreating with whatever remained of his command, radioed for reinforcements, reorganized his men and launched a counter-attack to retake the fallen ground. After successfully reclaiming the lost ground, he redeployed his remaining men so effectively, that an intercepted Indian Army communication was heard cursing their intelligence for having made them believe that there were only a handful of troops at the top when it seemed there was at least a company deployed.
On the day of his Shahadat, Sher's commanding officer informed him that around sixty to seventy Indian soldiers of the 8 Sikh Regiment are taking position between his post and another post and he had to break the enemy Forming Up Position (FUP). Sher took some of his soldiers and attacked the enemy Forming Up Position like a bolt of lightning. The attack was so powerful that the Indians retreated leaving dozens of dead bodies. Sher followed the retreating enemy soldiers and entered their base camp where he was surrounded by Indian soldiers. One Indian soldier ordered Sher Khan to surrender as he was surrounded. Sher promptly refused and replied that it is against a muslim's honor to surrender, he instantly fired on that soldier and destined him to hell, then he started firing on rest of the soldiers and embraced Shahadat after getting hit by several bullets from all sides.
After the battle ended, the commander of Indian 192 Mountain Brigade ordered his body to be brought back to his Brigade HQ as he wanted to take a look at the soldier who had led a fierce counter-attack, kept motivating his men to press on and pushed back Indian soldiers toward India Gate (Indian feature near Tiger Hill). That was why his mortal remains ended up on Indian side. The Indian Brigadier was so impressed with the valor of Khan that he was inclined to cite to Government of Pakistan that Capt. Sher Khan fought very bravely and must be given his due recognition.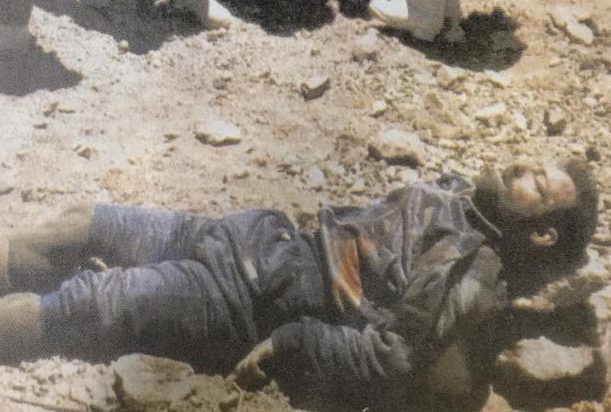 Body of Capt. Sher Khan in Indian hands after martyrdom on 6 July

Capt. Sher Khan's body along with another officer arrive at Karachi Airport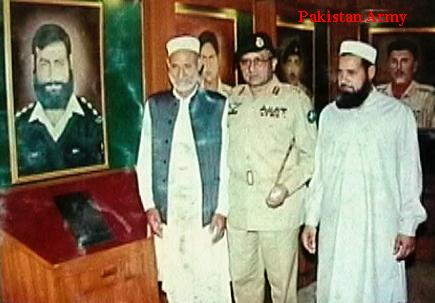 Gen. Musharraf with father and brother of Capt. Sher Khan
Contact Information:
Capt. Sher Khan Shaheed Nishan-e-Haider
Village Faujoonabad, Nawan Killi
Distt. Swabi - PAKISTAN
Phone: 92-938-530393
ACT OF COURAGE